EUROL FRONTFORK SAE 5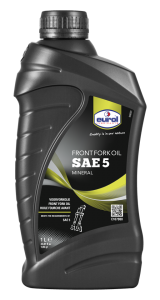 Universal fork oils
Eurol Front Fork Oil SAE 5 is blended from carefully selected paraffinic base oils with a low pour point and a high viscosity index.
Eurol Front Fork Oil SAE 5 is inhibited with very effective additives, ensuring an exceptional hydraulic springing and shock absorbing action. Scuffing and wear are reduced to a minimum, while a smooth movement is guaranteed. Besides, this oil offers good protection against foam-building and corrosion. Seals are not affected by this product.
Eurol Front Fork Oil SAE 5 has a high thermal and oxidation stability and can be applied in a broad temperature range. Due to the stable viscosity index improvers, the viscosity will stay in grade over a very long time.